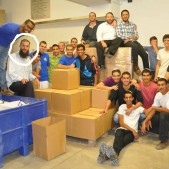 Who will win?
by Shalvi Waldman
0 Comments
|
Monday, October 19, 2015
under
Volunteering
,
Food Boxes
,
Israel's Heroes
Make a donation for widows and orphans in israel
Less than two months ago Rabbi Nehemia Lavi and his students from Yeshivat Ateret Kohanim arrived at Yad Eliezer's warehouse and packed hundreds of
hunger relief boxes
with the same vigor that they normally invested in their studies.
Weeks later, Lavi was in the old city of Jerusalem when he heard the commotion from the street. He took took his weapon and ran outside. When he saw Aharon Bennet critically wounded he ran up to help him, but despite his best efforts, he was stabbed by the terrorist, and his weapon was taken from him. His funeral took place the following day.
Lavi was mourned by his wife, seven children and countless students. They buried their teacher, but his humility, warmheartedness, and desire to help the Jewish people lives on. Soon after the shiva, Rabbi Nehemia's students returned to Yad Eliezer to continue his legacy of kindness by packing more food boxes.
Our enemy's weapons may be sharp and lethal, but our legacy will endure forever.