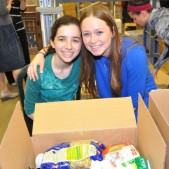 "We are always looking for good sitting down people!"
by Karen Reiffman
0 Comments
|
Wednesday, August 16, 2017
under
Volunteering
,
Food Boxes
Volunteer Opportunities at Yad Eliezer
How did you spend your summer vacation?
Esther Dyckman of Kew Gardens Hills, NY definitely has a unique answer to that question this year. During her trip to Israel last month on a summer program, Esther was injured in an accident and shattered her femur. She needed to undergo surgery, requiring a titanium rod to be inserted into her thigh. But the significant surgery and difficult recovery didn't put a damper on Esther's spirits. After about a week in the hospital, she was already itching to rejoin her campmates, and get back to learning in her shiurim.
When Esther heard that her group was scheduled to
pack food boxes for poor families with Yad Eliezer
though, her motivation grew even stronger. Esther's mom Adena, who had flown in to be at her side after the accident, wondered if packing food boxes would be a feasible activity for her. Would she be able to access the building with her walker/crutches? Plus, assembling food boxes usually involves extended time standing, working over a conveyor belt..and by this time Esther was only a week and a half after surgery! An email exchange with Yossi Kaufman, Yad Eliezer's Director of Public Relations, quickly put her fears at ease: "I got back such a warm, enthusiastic email from Yossi telling me that he couldn't wait to meet Esther. He said he would definitely put her to work and not to worry-the warehouse entrance is on the ground floor so she would be able to get in."
Esther recalls: "It really amazed me to walk into Yad Eliezer and be greeted with such a warm and enthusiastic "Esther!" before I even knew the name of the man who was greeting me. He told me he would put me to work right away which was refreshing after being babied for two weeks. He gave me such a fun job and said "We are always looking for good sitting down people". He gave me the opportunity to participate in all the action while still sitting down. Yossi made sure I was included in every video he took and just kept smiling and giving me chizuk that it was all going to be ok. He showed me pictures of his son who had, surprisingly, broken the same bone I had around 15 years ago in a car accident so he really understood what I was going through, he really got it! In the warehouse the atmosphere was a joyous one, of being happy to do Chessed for others. It was exactly the uplifting experience I needed that week."
The afternoon at Yad Eliezer was memorable for both mother and daughter. "Esther had an amazing, exhilarating time coming to Yad Eliezer and left in a very upbeat mood", says Adena. "I personally felt such positive energy and Simchas Hachayim in the warehouse and so much humility from all the people running it. And
she
felt like an integral part of this Chessed when in reality a huge Chessed was done for us."
We wish Esther a continued Refuah Shleima and invite her and her family to come back and visit again, soon. And for those who would like to come to our warehouse and participate in this wonderful mitzvah, we invite you, too. After all, we are always looking for good sitting down (or standing up!) people!
Take a look at our programs
here
.