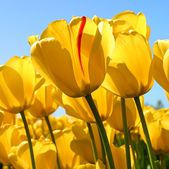 Fantastic Families
by Karen Reiffman
0 Comments
|
Wednesday, February 07, 2018
under
Volunteering
,
Food Boxes
Visitors to Yad Eliezer's Warehouse Help Pack Thousands of Food Boxes

At Yad Eliezer we are always so appreciative of the fantastic volunteer help we receive. The thousands of volunteers across the country, assisting us in all different kinds of ways, are what keep our ability to help others high, and our overhead low. We couldn't do what we do, without them. Recently the Saks family of Baltimore, MD pitched in to lend a hand at our warehouse, packing food boxes for people in need. We loved having them here, and apparently the feeling was mutual...
I can't tell you how much we enjoyed our experience at Yad Eliezer!
Simply doing a Mitzvah project would have been enough, but the way this was presented and produced was astonishing!
The introductory video was very well-done and explained to even the youngest why this mission is so important. Our experience loading more than 40 boxes worth of goods for the needy was something we'd never experienced before, and especially, by all our grandchildren!
The staff was so friendly, fun and helpful. I couldn't tell why the children were so excited doing this mitzvah (literally running back and forth and very serious about their task), whether it was because of their eagerness to do the mitzvah, or just because of the fun way it was presented.
And at the end, to watch the packing and wrapping machines finish the task as well as a fun, staged time-lapse video topped it off. In fact, some of us were so moved, we opened our wallets some more since it touched our hearts so dearly.
This trip to Israel was primarily undertaken for the benefit of 2 of our grandchildren between their Bar and Bat Mitzvah, so doing a Service Project was basically a 'given'.
This turned out to be far more exciting and fulfilling beyond anything we anticipated!
With your guidance and inspiration, it became a fun, exciting activity for all 12 of us!! So happy we teamed up with you.
I want to also let you know that while I had never heard of Yad Eliezer before, our Rabbi had, as well as many of our friends who all had great things to say about your mission.
Keep up the good work and next time we're there (or friends go), we'll be sure to engage with you again.

Bill and Ellen Saks
Baltimore, MD
Thank you, Saks family, for your invaluable help and your kind words. We hope to see you again!